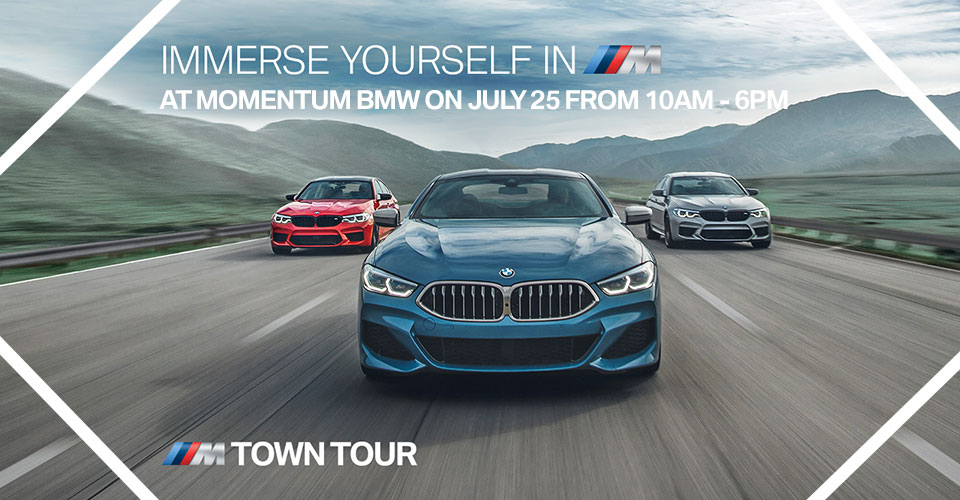 WELCOME TO THE M TOWN TOUR AT MOMENTUM BMW
Now is your chance to stop speculating from the sidelines and feel the power of the BMW M family of vehicles. Step into the driver's seat and get behind the wheel of some of the newest, most innovative models in the M lineup. The M Town Tour is stopping in Houston at Momentum BMW on July 25th from 10AM - 6PM. Be sure to
register today
in order to secure your seat behind the wheel of a M model. 
---
WHAT CAN I TEST DRIVE AT THE M TOWN TOUR?

M850i xDRIVE CONVERTIBLE
Powered by a fine-tuned V8 engine and 523 horses, the M850i xDrive Convertible will handle whatever you throw at it. Up for the challenge? Come experience it for yourself. When the soft-close automatic doors shut behind your, you will be brought into a new atmosphere of effortless command, comfort, and control. The All-New 8 Series is the perfect combination of enthralling heritage and bold new experiences integrated as one, and we can't wait to show you. 

M5 COMPETITION
The BMW M5 Competition Sedan shows off its attitude and ambition in every asset. When you step into the driver's seat, you'll immediately notice how its enhanced, lowered chassis improves driving dynamics. With the added power transfer of the M xDrive all-wheel drive, you'll benefit from every bit of the 617hp and 553 lb-ft of torque. Swing by the M Town Tour to take this one to the streets.

X3 M COMPETITION
The X3 M Competition projects authority and performance in one sleek, muscular package. Get out of your comfort zone in total comfort, at the wheel of one of the most dynamic vehicles in the M lineup. The newest addition to the legendary BMW M lineup is the perfect combination of performance and passion and will be sure to provide a thrill. The vehicle is born to perform with distinctive design elements inherent only in its motorsport DNA.

M340i
Ready for a symphony of speed? Let the M340i's 328 horses sing you a sweet song through its dual-pipe M sport exhaust. This is one track you'll want to play again and again and again. This is the sport sedan for the power hungry, inspired by BMW Motorsport. With M Sport elements, precision tuning, and breakthrough development, see the BMW M340i achieve the impossible all in the time of your M Town Tour test drive.

M2 COMPETITION

We could try to describe it to you. We could tell you that its 3.0-liter M TwinPower Turbo inline 6 delivers 405 hp at 5230 rpm with an M specific high-rev character that reaches 7000 rpm. But as much as we tell you about its tantalizing 4.0 second 0-60 time, the only way for you to truly understand its power is by driving it yourself. With the M Town Tour, driving this mean machine with sport like driving becomes possible.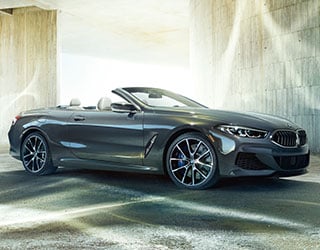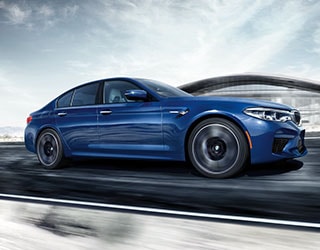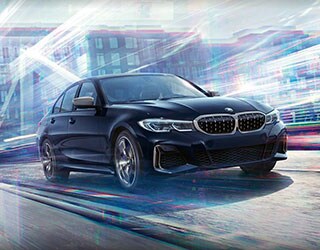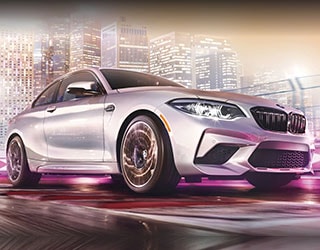 MOMENTUM BMW M TOWN TOUR FAQ

Q. What time should I plan on arriving to the event?

A. Please arrive at Momentum BMW no later than 10-15 minutes before your designated session time to allow for check-in. Late arrivals will risk forfeiting their respective time slot.

Q. How old must I be to drive?

A. Drivers must be at least 25 years old, with a valid driver's license. No provisional licenses accepted. Licenses will be checked on site.

Q. Are there limitations to how many times I can drive?

A. Registrants will have the opportunity to select the specific vehicle and time slot in which they would like to drive. Test drives are limited to one per person. If time and space allow, additional drives may be conducted at the end of your session.

Q. What does it mean if I am waitlisted?

A. Signing up for the waitlist allows drivers to obtain driving spaces in the event that pre-registered guests do not show up for their appointment. Similar to flying standby, waitlisted drivers must check-in at registration at the assigned session time and will be notified shortly thereafter if space is available.

Q. Can my friends and family ride in the car with me?

A. Companions of all ages may ride along with the driver; however, the installation of car seats is prohibited. Please note that there will be a designated member of the event staff riding in the passenger seat for the following models: M850i xDrive Convertible and M5 Competition.