BMW Tire Service

Benefits of a Tire Service
Having your tires properly serviced and maintained is one of the best things you can do for your car. As a car owner, you're probably familiar with a tire alignment. Alignment is one of the most common types of tire maintenance. While the exact schedule varies depending on your car, tires should be rotated approximately every 5,000 miles. You should also rotate tires after getting new ones or changing seasonal tires. Along with tire alignments, you will also need to get your tires rotated and balanced periodically. A qualified mechanic, such as ours, will look closely at your car's tires when you come in for an appointment. He or she will then align the tires if needed and recommend any additional services is necessary for healthy tires. Being vigilant about maintaining your tires can extend the tires' lifespan and improve your car's performance. It also saves money!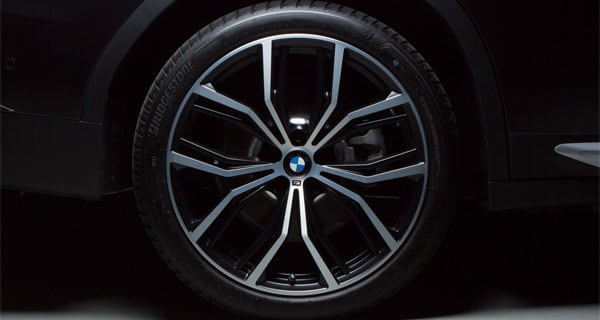 Momentum BMW
10002 Southwest Freeway, Houston, TX 77074
Serving
Houston

,

Sugar Land

&

Missouri City

Keeping up with regular tire service is essential, but so is having a qualified professional perform the repairs. This is especially true with a vital component like your tires, which you don't want to take chances on! Our state-of-the-art service department has over 60 service bays, which means that we'll work to get you in and out as quickly as possible. And if you don't drive BMW, there's no need to worry, since our staff has experience working on all makes and models of cars, including used luxury vehicles. Although spending the time and money for car service can be stressful, both you and your vehicle will get excellent service here. Our technicians are a winning combination of friendly, knowledgeable, and courteous. You'll get plenty of personal attention when you bring your car in for service, and you'll leave with quality repair work. To make life easier, our service department offers a shuttle service to customers who need to leave their vehicles for repairs. For those with shorter appointments, we provide complimentary WI-FI and refreshments.
Houston Tire Service
Along with top-notch customer service and expert car care, you will also find quality parts for your vehicle here. That's because we use parts called original equipment manufacturer (OEM) components, which are the only type of certified parts you can get for your car. OEM parts are built to a high standard, and they are backed by a manufacturer's warranty. Another advantage of OEM parts is that most come with a nationally recognized guarantee. That means that if you get an OEM part at our dealership and the part breaks within its warranty period, you can bring your car to any BMW service center to get the part replaced at no cost. The other option for car parts is called aftermarket parts. Independent repair shops generally carry aftermarket parts. Aftermarket parts are often appealing to customers for their lower price tag. But while that lower price is attractive up front, it can end up costing more. Unlike OEM parts, aftermarket parts do not come with a warranty, which means you may end up with a bad part that you have to replace shortly after getting it fixed. Aftermarket parts also have a universal fit, which means they may not be fitted correctly for your car. That can pose a safety hazard and possibly ruin your vehicle! When you're ready for tire service, call or contact us to make an appointment. We are looking forward to working with you and meeting your car's needs!