BMW Brake Services in Houston

Why Choose Momentum BMW for Brake Service?
You'll find fast, affordable, expert BMW brake service at the Momentum BMW Service Center, conveniently located on the southbound side of Highway 59 between Bissonnet and the Sam Houston Tollway.
We at Momentum BMW have the lowest labor rate of all Houston BMW service centers, offering you the best value for BMW service in Houston. Our state of the art service facility is the largest in the region, and our expert technicians have access to the latest BMW diagnostics equipment and technology. We stock three million dollars' worth of genuine OEM BMW parts on site, making our parts inventory the largest in the nation. No matter what your BMW needs, we have it covered right here!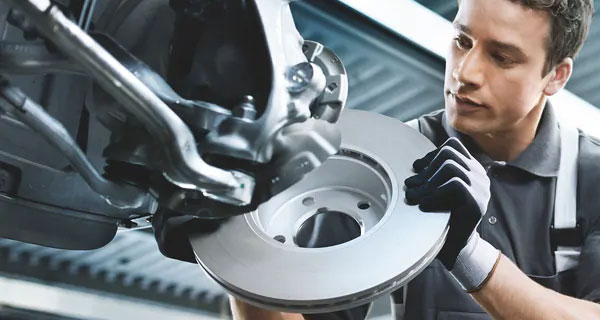 Momentum BMW
9570 Southwest Freeway, Houston, TX 77074
Why Service My BMW Vehicle's Brakes?
The only thing more important than making sure your BMW performance car or SUV runs well is ensuring it stops well. Quality brakes in great condition are key to getting the best performance, handling, and safety out of your BMW luxury performance vehicle. Most modern brakes last between 30,000 and 60,000 miles, but you may need more frequent service depending on driving habits, terrain, and brake type. If you experience any brake squealing, whining, grinding, or vibration, bring your BMW in for brake service right away.
What Kinds of Brake Services Does Momentum BMW Offer?
Our expert team of BMW technicians offers a full range of BMW brake services, including brake pad, rotor, shoe, drum, and disc inspection and replacement, performance brake upgrades, master cylinder service, brake fluid flush and fills, and more.