BMW Brake Service

Benefits of a Brake Service
Vehicles need brakes to stop. Brake failure is a grave concern that may occur if your braking system isn't well-maintained, after an accident, and due to parts wear and tear that happens over time. Regular brake service prevents brake failure and the risk of being involved in a crash as a result. If the brakes on your car give signs that it's time for service, do not ignore them because the damage will only worsen, not go away. Symptoms that your brakes need to be serviced include strange noises/squealing sounds; difficulty stopping when you press the brakes; brakes mash all the way to the floor; and the vehicle will not stop at all.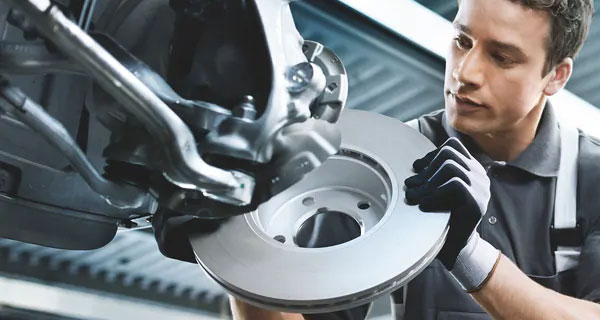 Momentum BMW
10002 Southwest Freeway, Houston, TX 77074
Serving
Houston

,

Sugar Land

&

Missouri City

Our technicians take pride in quality repairs. As ASE-certified auto repair technicians, they possess the skills and expertise necessary to handle minor and major repairs with ease. And, nothing makes them happier than knowing they've handled another successful job. No matter the vehicle make or model you drive, our expert repair technicians are standing by, ready to provide top-notch service that exceeds your every expectation. We never cut corners to finish the job quicker. Instead, we take the time to do things the right way, the first time we service your vehicle. We'd love to show you the difference our ASE-certified technicians make when repairing your automobile.
Houston Brake Service
The parts used to service your vehicle makes a difference in the overall quality of the repair. Some companies service the vehicle using cheap aftermarket parts. That allows them to make more profit on every repair, yet puts your vehicle at-risk for trouble. Rest assured we use only OEM parts that are designed to fit your specific vehicle make and model. We never use cheap aftermarket parts that may fail shortly after they're installed. Original Equipment Manufacturer parts are high-quality pieces and include a warranty. No matter what parts you need for your brakes, we'll use only OEM parts to repair. Not only do you enjoy a more thorough repair, but you also have the comfort of knowing you won't pay for a secondary repair if the parts fail.