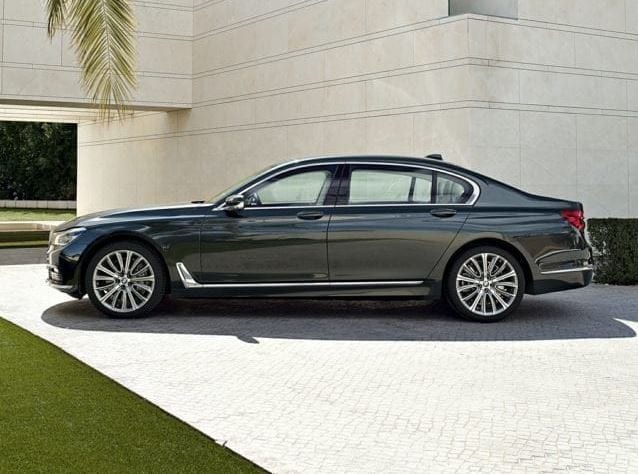 ​
If you want a large and luxurious sedan to put in the driveway of your Sugar Land home, visit the Momentum BMW showroom to view the BMW 7 Series and get behind the wheel of one for a test drive you won't forget!
Changes For 2019
Since the BMW 7 Series already received updates in 2015, the model is not yet due for any minor or major changes. Even though the 2019 BMW 7 Series is essentially a carryover from the previous model year, you'll still be impressed with the performance and luxury amenities.
Performance
The BMW 7 Series is available in several trims — BMW 740i, 750i, 740e, M760i, and Alpina B7 — and at our location the 740i and 750i are our most well-stocked picks. The 740i has a 3.0L engine that churns out 320 horsepower and can get up to 60 MPH in 5.1 seconds. Those specs are impressive enough as is, but for more we suggest the 750i with a 4.4L V8 that has 445 horsepower and 4.3-second 0-60 MPH time. With all that power you can easily cruise around downtown Houston or confidently pass on Highway 59.
Luxury Amenities
What makes the executive BMW 7 Series really stand out is the backseat comfort. You can pamper your passengers with sleek touchscreen buttons on the center armrest, massaging features, and rear seat entertainment. Everyone can enjoy the various ambient lighting settings and the beautiful diamond-stitched leather seating. You can even get an impressive Bowers & Wilkins surround sound system and feel like you're catching a concert at the Smart Financial Centre!
To learn more about the BMW 7 Series sedan, or any of the vehicles in the new BMW lineup, visit us at our Houston dealership. We're just minutes away from the River Oaks Shopping District and close at 8PM Monday through Saturday and 7PM on Sunday.