Houston BMW Car Repair - Momentum BMW Service Department

Momentum BMW Service department is staffed with the most qualified technicians ready to answer your questions and address your service needs. Use our
online service appointment form
to schedule an appointment or contact our service department if you have any additional questions. Our greater
Houston BMW car repair
center will quickly diagnose and fix your vehicle's problem.Our professionally trained technicians have the know-how and experience to get your vehicle running at its peak performance. Whether your vehicle needs new brakes, an oil change, alignment or Texas inspection, our
Houston BMW dealership
is your destination.
Houston, Texas Auto Service and Repair at Momentum BMW
All cars and trucks need regular "check-ups" to ensure that all parts are in working order, fluids are at the correct levels, and worn out parts are properly replaced. Our expert auto mechanics are BMW certified car repair specialists. You are welcome to visit anytime and check out our fantastic
BMW Auto Repair Service Special Offers
.
Your BMW works as one unit, and is intended to provide you safe, reliable transportation. This means that all parts are interrelated and ignoring maintenance can lead to touble. Neglecting even simple routine maintenance, such as changing the oil or checking the coolant, can lead to poor fuel economy, unreliability, or costly breakdowns. It also may invalidate your warranty.
Momentum BMW provides an extensive range of auto service repair maintenance services, including:
* Houston BMW oil changes
* Houston BMW tune-ups
* Houston BMW brake jobs
* Houston BMW mufflers
* Houston BMW shocks and struts
* Houston BMW tires
* Houston BMW alignment
* Houston BMW climate control
* Houston BMW preventive maintenance
* Houston BMW air conditioning service
* Houston BMW exhaust
* Houston BMW batteries service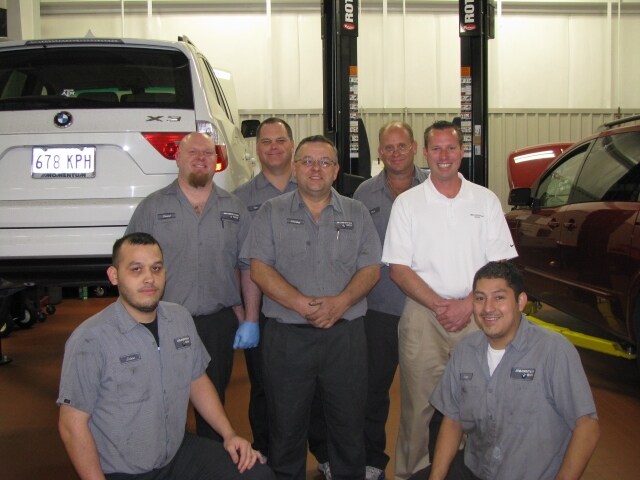 "THIS IS OUR AWARD WINNING CPO TEAM!" WHICH IS THE 2nd LARGEST BMW CPO DEPARTMENT IN THE USA!!!
Momentum BMW repair experts are here to help you whether you need scheduled maintenance, auto repair work, or a manufacturer recall. Call us at 800-738-4993 or contact us to schedule an Auto Repair Service Appointment Today!
Your vehicle represents a significant investment, and taking an active role in maintaining your vehicle will help you protect this investment. Proper maintenance will help extend the life of your BMW and preserve its value. In addition to helping you avoid costly repairs down the road, regular maintenance will optimize your BMW car's safety, fuel efficiency and overall performance.
For example, over time your car, truck, SUV or minivan will be exposed to natural environmental factors such as friction, pollution, and temperature extremes. Let us help you to learn about minimizing factors such as:
* Friction: Certain auto parts naturally contact others & cause friction. We can assist & provide more information about friction, potential problems, and a schedule for oil changes & lubrication.
* Pollutants: Dirt, corrosion, and other materials can clog fuel and lubrication systems.
* Damage: Environmental elements such as industrial fallout, air pollutants, and even sunshine can damage your.
Schedule Auto Repair Service Today!
* Our Houston BMW Car Repair Staff of Service Technicians are continually being trained to ensure the proper maintenance and repair of your vehicle.
* We are the best
* We use Genuine BMW Parts
* 52 Bay Repair Facility
* 26 BMW Certified Master Technicians
* 26 BMW Factory Certified Technicians and 4 Certified Technician Assistants
* Certified State Inspection Center
* All Vehicles Washed and Vacuumed with Care
* Early Bird Vehicle Drop Off
* Courtesy Shuttle
* Comfortable Waiting Area with Wireless Internet Service
* Online Service Coupons
* An Extensive Inventory of BMW Parts and Accessories
In summary our service department offers the best in automotive service to our customers. Our state-of-the-art BMW facility features the most current diagnostic and repair equipment available and our highly skilled factory-trained technicians will deliver efficient, quality vehicle care.
Call 800-738-4993 to schedule your service appointment today or visit our BMW car repair center at
10002 Southwest Freeway
.